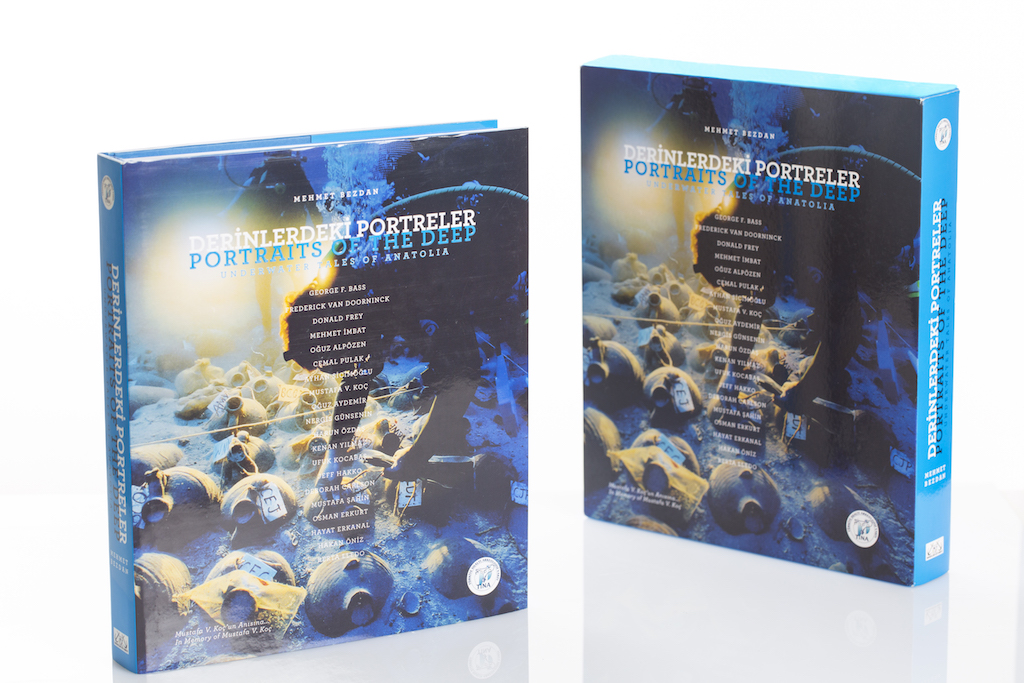 "Portraits of the Deep", the story of the people who illuminate the unique thousands of years of history of Anatolian coasts.
DERİNLERDEKİ PORTRELER
PORTRAITS OF THE DEEP
UNDERWATER TALES OF ANATOLIA
​
ISBN: 9789944264761
Birinci Baskı/First Edition: 2016
477 Sayfa/Pages


An unprecedented work on those who have contributed to this discipline on the coast where underwater archeology has begun.

"Portraits of the Deep"; is the half a century story of excavations of the world's oldest wrecks on Anatolian coasts, "Bodrum Castle" becoming one the world's unique museums, Ertuğrul frigate sunken on the Japanese coasts, shipwrecks in Yenikapı, mariners sailing thousands of years ago on the shores of our coast, the devoted lives of scientists working for a purpose under meters of water for archeology.

From George F. Bass who is accepted as the father of underwater archeology and started writing maritime history from scratch to Cemal Pulak, the excavator of the world's oldest wreck; from deceased Mustafa V. Koç, the most serious supporter of maritime archeology to Mehmet İmbat, Turkey's oldest sponge fishmerman; from Donald Frey who took photographs of the wrecks discovered meters under the water and brought them into the sunlight to Oğuz Aydemir, who devoted himself to the promotion of Turkey; from Nergis Günsenin, who is the first person to do a wreck excavation to Oğuz Alpözen, the person who made "Bodrum Castle" one the world's most beautiful museums, a travel back in time with twenty special portraits.

This five-hundred-page work brings the past and present together with archives and photographs and aims to tell the story of these waters not only in our country but also abroad with its Turkish and English editions.

One of the last interviews of Mustafa V. Koç, who provided the biggest support to maritime archeology in Turkey, is reaching to the reader with the documentary DVD that is coming with the book.

The "Portraits of the Deep" published with the support of TINA "The Turkish Foundation for Underwater Archeology" is a product of a long-term work from Turkey to America and from İstanbul to Bodrum.